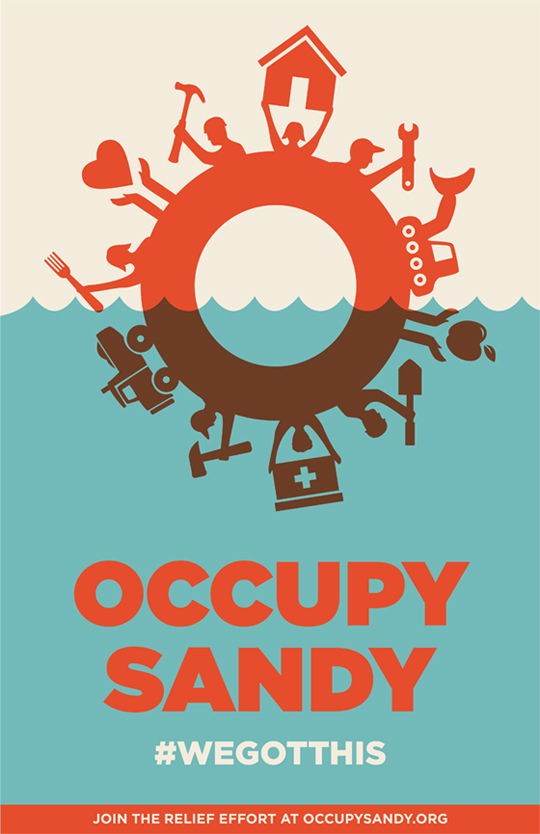 Nothing brings us together like a crisis. A sense of community springs up that compels us to work together in a time of great need. It is ironic that we so often lose this sense after a disaster because community is the very prescription for resilience in the face of the unexpected.
The aftermath of Hurricane Sandy has given us a new textbook entry for this principle: grassroots crisis response in the form of a resurgent Occupy movement. While central agencies like FEMA and the Red Cross are prepared to do their part, Occupy Sandy has shown us that the real difference is made when communities organize and uplift themselves and those around them.
But how did Occupy Sandy mobilize so quickly? In retrospect we can view Occupy Wall Street as a culture hacking exercise that became a training ground for crisis response 'battle readiness'. Disaster preparedness is a crucial ingredient in effective crisis response, and the Occupy movement has shown us just how much getting a grassroots effort going in advance can pay off.
This is why I see such value in building the global CrisisCamp community. Information technology is transforming our lives at an unprecedented pace, but building such technology takes time and resources that the burst of activity following a crisis can't guarantee. In order to continue growing our collective disaster preparedness capabilities, it behooves us to maintain and grow this community during times of relative calm.
So, I'd urge everyone paying attention to #HurricaneHackers across the web to own this CrisisCamp Community Directory on the CrisisCommons wiki. See if your city has a presence and if not, create one using this template. Even if you're not interested in being an organizer, create a page for your city and put your name on it. Fill out this volunteer form to get connected with other CrisisCampers. Also follow the CrisisCommons on Twitter and Facebook for more on the global movement.
And of course, growth means more than just recruiting a small army of software developers. We need to build a diverse network of people to steer the development and adoption of software for crisis response. This is where culture hacking comes into play.  Having frequent CrisisCamp hackathons in cities across the world will help us to continually upgrade the systems of support our society depends upon when we're in a pinch. For this to work, we need to connect with lawyers, business owners, government officials and even kids and invite them to participate. This is what I'll be working on over the next few weeks here in Boston.
If you're located near Boston, here are some links to follow/join: Twitter, Facebook Group, Google Group, Crisis Commons Wiki. If you're interested in helping organize future CrisisCamp Boston events, give me a shout via twitter @captaincalliope, or shoot me an email.
Stay tuned for more! We'll be announcing event details for the next CrisisCamp Boston hackathon soon.